When
"Draining the Swamp," Include "Religion!"
The Quality of a Nation's Government Often Reflects the Dedicated Honesty of the Prevailing Religious Leadership,
…Or the Lack Thereof.

The Problem:
Religious Officials Seek Adulation, Praise, and Power by the Easiest Means Available.
They are infected by temptations from the Levitical Curse that
inspire dishonest and deeply Orwellian "traditions" in "ministry."
The Solution: "Red Pills" about Religion!

LEARN WHY AND HOW LAY MEMBERS MUST RETAKE CONTROL OF CONGREGATIONS AND PICK VERSES FOR PREACHING INSTEAD OF LETTING THEIR "PASTORS" OR DENOMINATIONS DO SO.

***Salvation is not an issue directly examined here, but
aspects of "religion" and cunning "ministry" definitely are!***

Welcome to a Source of "Red Pills"
about Religion, regarding the Levitical Curse,
the "Establishment," and "Ministry."
Such information is NOT "officially" found or readily available
in Bible schools or seminaries, but judge for yourself.

WHAT'S HERE?
Two PDF files are available 3/4ths down this page.
(1) "THE GIST" is about religious politics.
(2) "Clergy Secrets of the Worship Lectionary"
is about worship/church services.

Religion Often Goes Bad, Along With Government,
When Good People Do Nothing. That is the Bible's Main Temporal Warning from the Book of Exodus Onward!
ClergySecrets.com GodScam.com ExodusErased.com TaxChurch.us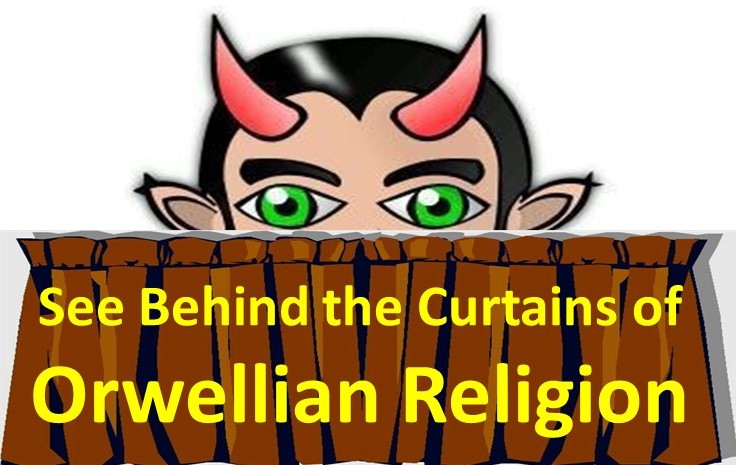 Great sin is inherent when "religion" prescribes lesser standards for government than individuals, i.e. by "theologically" advocating that "authority is assigned by God" but doing much much less regarding doctrine about honesty in authority.
The pattern is modern evidence that clergy are infected with the Levitical Curse, from Genesis 49:5-7, and full of deceit.

FYI: In this context, "religion" refers to the many "religious organizations" that have coordinated with government since the Exodus to form cunning "Establishment."
In modern times, "religion" includes "churches" that have organized with 501c3 status to essentially become incorporated "nonprofit" pawns of the state.
Such "ministry" is deeply rooted in Levitical tradition.
READ MORE IN CLERGY SECRETS!

Prophets Are Greater Than Priests
Over and Over Again in the Biblical Story, Prophets Had to Shore Up for the Ruinous Greed & Bureaucratic Laziness of the "Priests" that Sought Adulation, Praise, and Power by the Easiest Means Available, Beginning with the Levites.
— FYI: Not much has changed. —
"Levitical Ministry" has been a curse to the present.
1) Levitical "Priests" were Deceitfully Crony with the Coveting & Stealing Done by Orwellian "Establishment" Government.
2)Levitical "Priests" Engineered Easily Repetitive "Ministry" for Their Own Convenience and Profit.
3) Levitical "Priests" Repeatedly Watered-down Many Teachings, Including Many from the Prophets.
4) Levitical "Priests" Seemed to Forget Everything About Melchizedek's Righteousness, Thus They Hardly Honored Melchizedek or Abraham's Offerings to Him.

Unfortunately, the "Levitical Priesthood" Has Been Both a Curse and a Template for "Ministry" over the Past 3,500 Years!
(Damned Dishonest "Priests!")
EXAMINE the LEVITES of ISRAEL
1. The Tribe of Levi was a special EVIL! (Genesis 49:5-7)
2. The Tribe of Levi Became Israel's "Priesthood" Under
Suspicious Circumstances, Explained in CLERGY SECRETS.
3. The Tribe/Priesthood of Levi Started the "Tradition" of
Religious Officials Being "Blind, Deaf, and Dumb" about
the Coveting & Stealing Done Through Government.
4. Levitical "Religious Authority" Gave Israel
"40 Years In the Desert" and then 3,500
Years of Orwellian "Tradition" to the World!
Wicked Levitical "Ministry" Still Slyly Inspires
Itself to Rule Like Egypt's Pharaohs!

————————
If you are Christian, you inherited Prophethood (as differentiated from bureaucratic "Priesthood") for discerning honesty. But, are you using it or losing it? CLERGY SECRETS is about activating your Prophethood to "see behind the curtains."
————————
Free Views of Two PDFs are Below.
Scroll down 3/4ths of this page to find them.

SCROLL DOWN!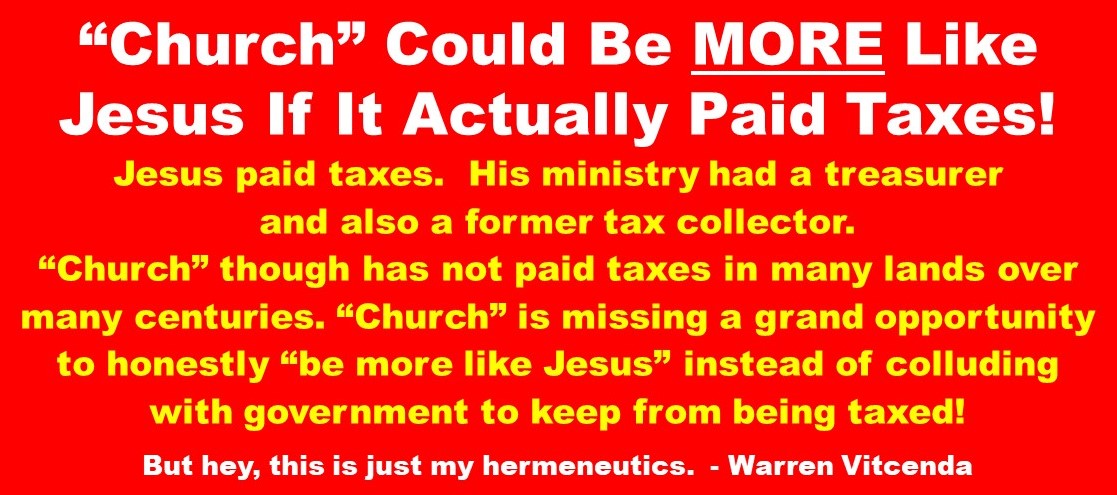 WHAT IS IT ABOUT TAXES?
Modern priests/pastors, who follow in the wake of the Levites, assert that Jesus paid taxes to "honor authority."
That is FALSE!
Jesus paid taxes to honor his own honesty and to contrast it against the Establishment's dishonesty. Jesus also paid taxes to block/befuddle the "authorities" from trying to close his ministry. Besides, Jesus' ability to befuddle "authority" was part of his Passion!

Instead of being like Jesus and valuing its own honesty,
modern "church" is still manipulated by Levitical "traditions" that support the formation of "Establishment."
————–
Religious Officials
Sly Masters, Not "Servants"
Paraphrasing Dr. Frank R. Wallace, "They are slaves to their own seeking of adulation, praise, and power by the easiest means available."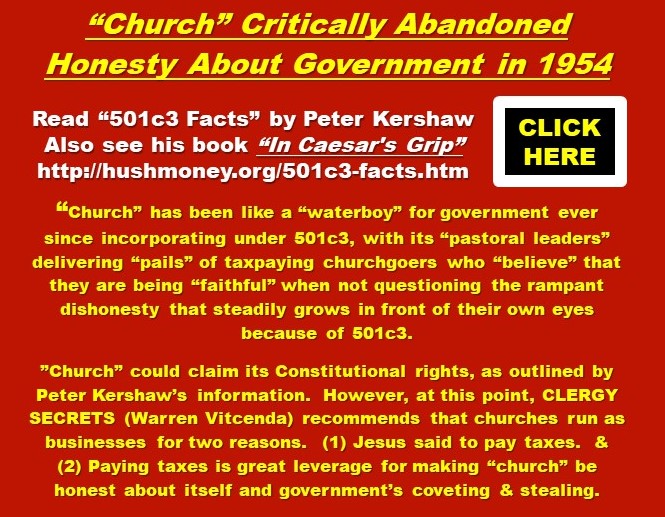 When "church" is untaxed, it heeds the needs of the state.
When "church" is taxed, honesty like Jesus had
could become its sharp weapon!
JESUS' PAID TAXES!
If "church" paid taxes, its "ministry" would be more
like Jesus' ministry, right? Make "church" honest!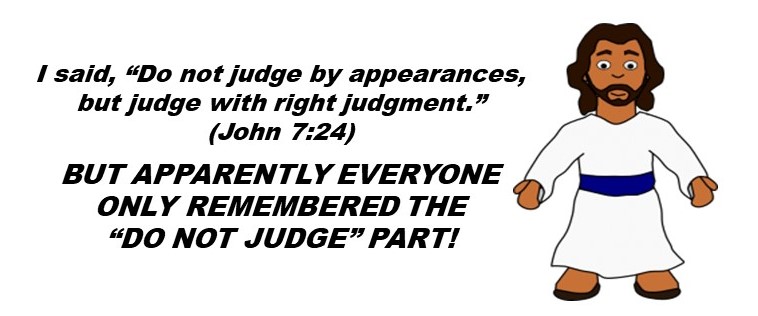 "Church" IS the PRIME source of
"cheap grace" for government.
(Research "cheap grace" by Dietrich Bonhoeffer.)
Besides, with US Debt at $21 Trillion and the Social Security Trust Fund going broke by 2033, if not before, you CANNOT AFFORD to have "church" be crony about government's Orwellian coveting & stealing!
What would happen if your "pastor" gave a sermon about government's coveting & stealing? Don't hold your breath!
A CHOICE OF PRIESTHOODS
Jesus' Ministry was Patterned after the Priesthood Known
as the Righteous Order of Melchizedek (Hebrews 7) and
NOT after the Levitical Priesthood of Israel.
BIG DIFFERENCE!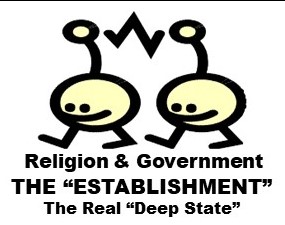 The People of God Have Been Deceived Not by Witches and Demons – But by Their Own "Authorities."
Use This to Examine YOUR Religious Officials!

You gain Authority when you question and research.
"Somehow" that is not emphasized by bureaucratic
"Priests" in their "doctrine" on authority.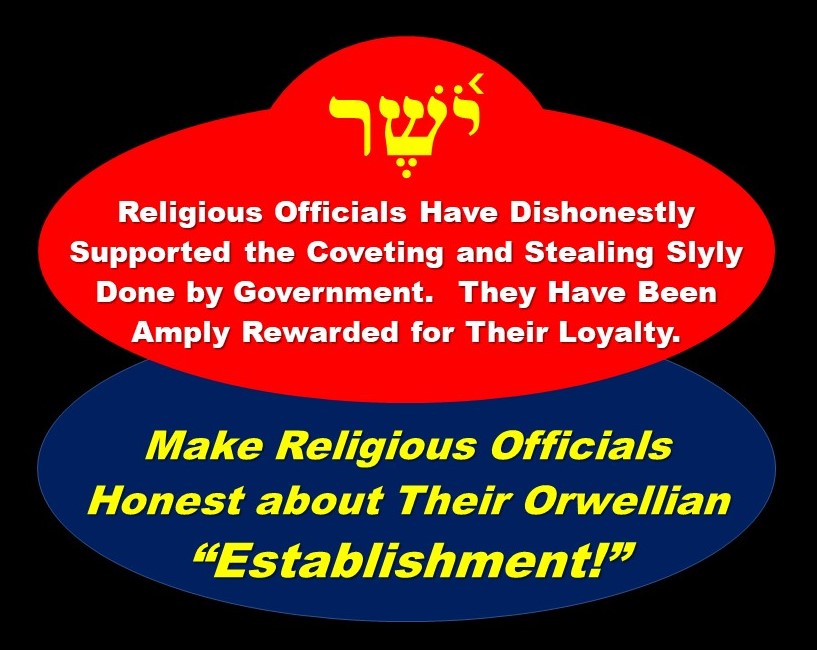 See Behind the Curtains!
"Church" makes coveting and stealing into issues about people's "sin" but slyly not about government's Orwellianism.
So Levitical!
When "religious officials" are deceitfully "blind, deaf, and dumb" about government's coveting and stealing, they break Covenant for expecting your offerings!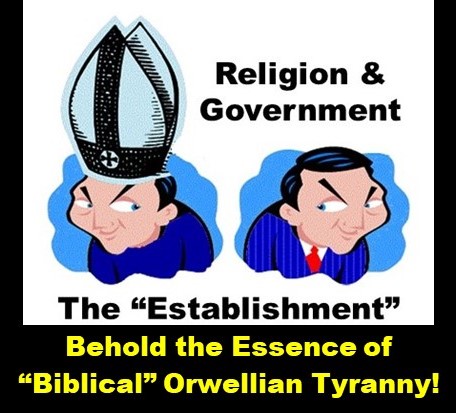 What's This All About?
Religious "officials" have long had staunch doctrine about "authority" but "not so much" (i.e. hardly anything) to say in sermons or otherwise about honest authority that does not covet or steal – especially regarding the cooperative "behind the scenes" fusion of government and religion as deceitful "Establishment."
Enticing? Examine more!
Over many centuries and in many nations, "religion" and "government" have ruled rather than served by using cunning means that dishonestly covet and steal. Only a taxed church will ever be honest about dishonest government. Besides, Jesus said to "pay taxes." Willingly paying taxes caused Jesus' perceived honesty to be elevated. Jesus though did not say to ignore government's coveting and stealing or to easily let it "off the hook."
Assange on Dishonest Government
"The overwhelming majority of information is classified to protect political security, not national security."
– Julian Assange of Wikileaks

Include "religious authority" in a list
of "protectors of political security."

Free To View PDFs
The future completed edition of Clergy Secrets is on track to have over 300 pages. The following pdf files however offer preview looks right now.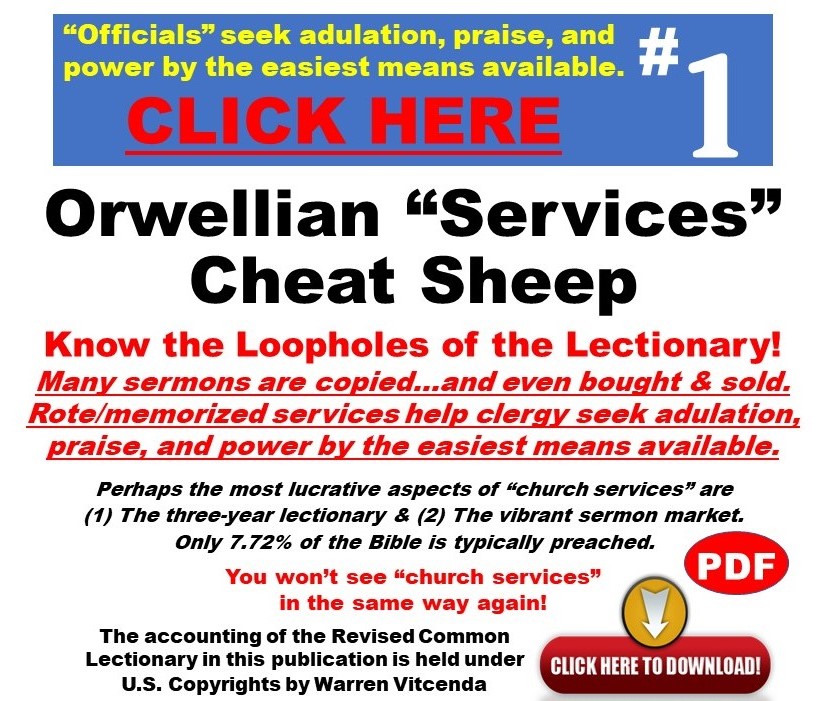 HOW PASTORS BULLY
Pray that your pastor is not just buying or copying sermons from websites like Sermons.com, DesperatePreacher.com (an old goodie!), and SermonMall.com!
Pastors slyly bully worship committees so they do not think that they can overrule the "traditional" scriptural assignments that are made by their denomination/synod, etc., or by the "higher ups" at the CCT – The Consultation on Common Texts. It is the most sinister form of "bullying" as it has become just flat-out accepted "tradition."
Of specific concern is what is omitted in sermons because of scripture assignments. In particular, bad leadership, in both government and religion, occurred over and over again in the Old Testament as well as in the Roman Empire that spread its version of Christianity for centuries. Such history is "conveniently" avoided by most scriptural assignments for sermons. Just research "lectionary" to see the breadth of this phenomenon.
Having "common texts" is key for the sermon market. "Traditionally," worship committees can only make choreographic decisions about worship; they've long been browbeaten into their lack of real authority – the authority to pick what is preached.

WEBSITES: Sermons.com DesperatePreacher.com (an old goodie),
and www.SermonMall.com – among others.
Other sources exist too, journals as well as "pastoral sermon groups" that cater more internally to specific denominations.


INSPIRED by STAR TREK!
CLERGY SECRETS was inspired by Captain Kirk's
Kobayashi Maru Test! If you know about it, you understand!
Does CLERGY SECRETS play by "church rules?"
No! LOL! But "church" certainly wishes that it did!
In the politics of "ministry," tyranny is assembled in the pews…
Your time, your money, and – most importantly –
your honesty are all at stake!
FACEBOOK
YOU MUST MASTER YOUR
"PUBLIC SERVANTS"
OR ELSE THEY WILL MASTER YOU
ON THIS SIDE OF THE PEARLY GATES!


FACEBOOK