When
"Draining the Swamp," Include "Church!"
The Quality of "Government" Often Just Reflects the Dedicated Honesty of Society's Prevailing Religious Leadership,
…Or The Lack Thereof.
—————
This Page is Currently Dedicated To:
St. Andrew's Lutheran Church of Mahtomedi, MN.
A Levitical Ministry If There Ever Was One.
ClergySecrets.com GodScam.com ExodusErased.com TaxChurch.us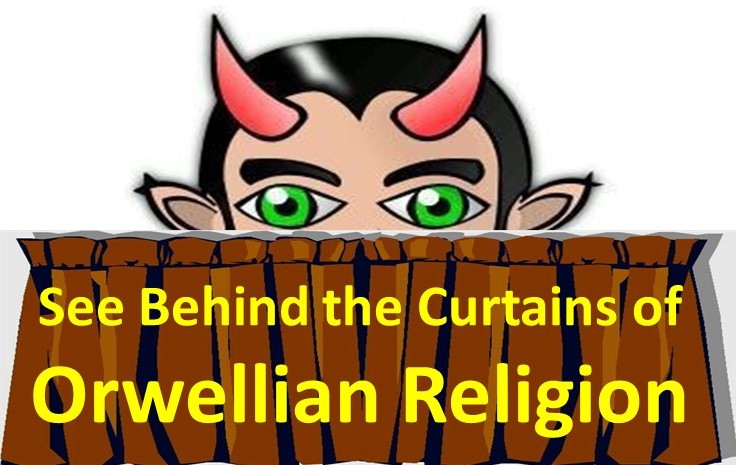 "Church" supports the rights of the individual only so long as they do not interfere with the state. "THE DEEP-STATE ESTABLISHMENT"
Religious Officials
Sly Masters, Not "Servants"
Paraphrasing Dr. Frank R. Wallace, "They are slaves to their own seeking of adulation, praise, and power by the easiest means available."

Since the Exodus, "Ministry" Originated and Inspired by the Levitical Priesthood has Dishonestly Used "Religious Authority" as Orwellian Means to Cajole and Leverage "Standing" for Religion and Government to Jointly Covet and Steal as "Establishment."
As a Result, Sincerely Conscientious Christians Have Been Cunningly Dissuaded from Faithfully Using Their Own Inherent Authority and Honesty, in the Realms of Both Religion and Government, to Anchor the Runaway Expansion of Sly "Establishment" Power.
—————–

"Deep State" Tyranny has Long Been Deeply Rooted in the Cooperative "Establishment" that has Jointly Included Both "Religious Ministry" & Government!
Throughout Much of Church History, Doctrine about the "Authority" of "Establishment" Religion and Government Should Have Been Tied Closely to Doctrine on Honesty. Doing so Would Have Prevented Repeating Many of the Pitfalls that Cursed Ancient Israel Because of Dishonest "Authority."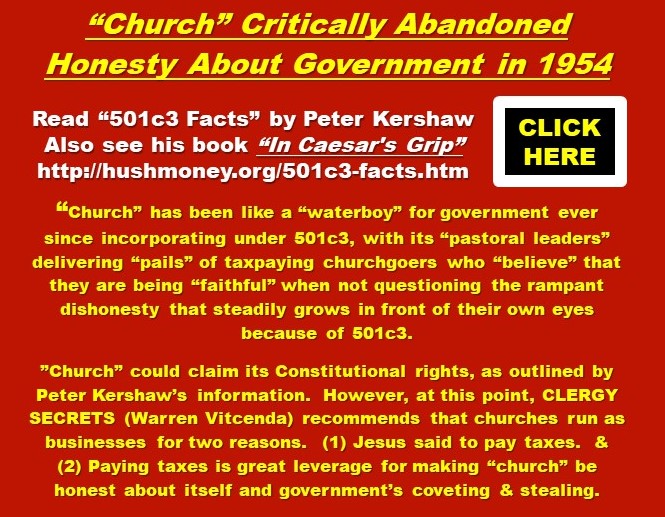 Behold in Clergy Secrets
the Matrix that Has Made
Religion into Tyranny!


A CHOICE OF PRIESTHOODS
Jesus' Ministry was Patterned after the Priesthood Known
as the Righteous Order of Melchizedek (Hebrews 7) and
NOT after the Levitical Priesthood of Israel.
BIG DIFFERENCE!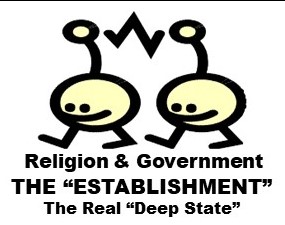 The People of God Have Been Deceived Not by Witches and Demons – But by Their Own "Authorities."
Use This to Examine YOUR Religious Officials!

The Traditional "Ministry" of the Wicked Levitical Priesthood Still Curses Judeo-Christianity.
Levitical "Ministry" Promotes the "Authority" of the "Establishment" While Having Little, if any, Doctrine about Honesty. Together Since the Exodus, "Establishment" Religion and Government have Used Orwellian Means to Slyly Echo the Pharaohs of Egypt!

This Defines "Levitical."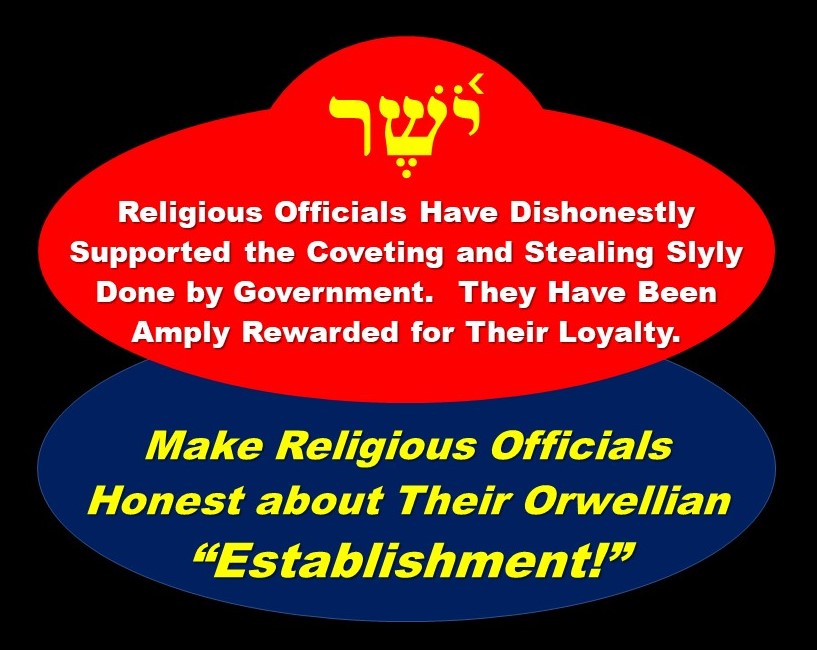 EXAMINE the LEVITES of ISRAEL!

1. The Tribe of Levi was a special EVIL! (Genesis 49:5-7)

2. The Tribe of Levi Became Israel's "Priesthood" Under
Suspicious Circumstances, Explained in CLERGY SECRETS.

3. The Tribe/Priesthood of Levi Started the "Tradition" of
Religious Officials Being "Blind, Deaf, and Dumb" about
the Coveting & Stealing Done by Government Rulers.

4. Levitical "Religious Authority" gave Israel "40 Years In
the Desert" and 3,500 Years of Orwellian Tyranny to the World!

See Behind the Curtains!
When "Religious Officials" are Deceitfully "Blind, Deaf, and Dumb" about Government's Coveting and Stealing, They Break Covenant for Expecting Your Offerings!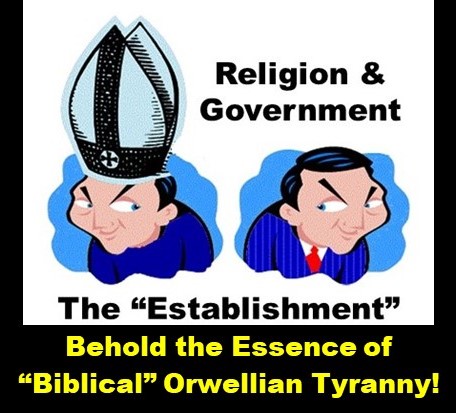 What's This All About?
Religious "officials" have long had staunch doctrine about the Establishment's "authority" but "not so much" (i.e. hardly anything) to say in sermons or otherwise about honest authority that does not covet or steal – especially regarding the deceitful fusion of government and religion as "Establishment."
Enticing? Examine more!
Over many centuries and in many nations, "religion" and "government" have ruled rather than served by using cunning means that dishonestly allow their coveting and stealing. Only a taxed church will ever be honest about dishonest government. Jesus did say to "pay taxes," but he did not say to ignore government's coveting and stealing or easily let it "off the hook."

Assange on Dishonest Government
"The overwhelming majority of information is classified to protect political security, not national security."
– Julian Assange of Wikileaks

Along with Assange's statement about government, consider too that "religion" has long had a vast, unholy, and slyly intimidating sub-theme about coveting and stealing being "ok" and even "righteous" when done by "government." It is the most shrewd and enduring feature of the Levitical Priesthood.
It is also Orwellian Tyranny Beyond Words!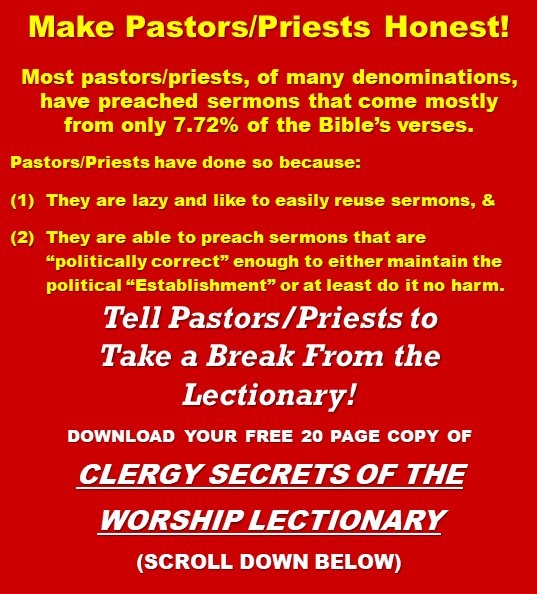 Two Free Downloads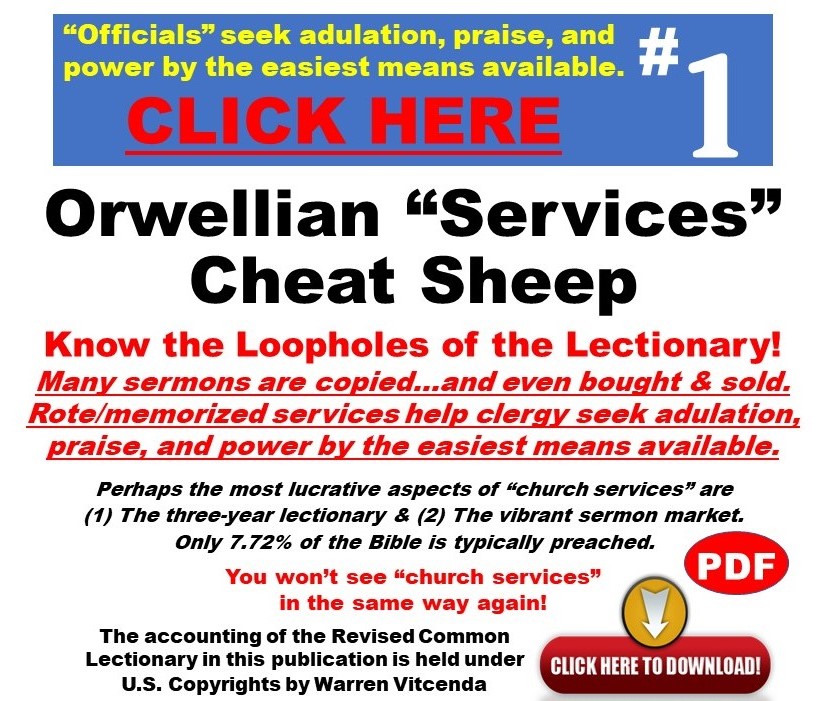 The $21Trillion You Can't Afford!
Besides people, just consider the following. With a Federal Government that has $21Trillion of growing debt AND the Social Security Trust Fund going broke in the United States after 2033, you cannot afford government that covets and steals from YOU – especially by means where "religious authority" is slyly used as leverage against you!


INSPIRED by STAR TREK!
CLERGY SECRETS was inspired by Captain Kirk's
Kobayashi Maru Test! If you know about it, you understand!
Does CLERGY SECRETS play by "church rules?"
No! LOL! But "church" certainly wishes that it did!

In the politics of "ministry," tyranny is assembled in the pews…

Your time, your money, and – most importantly –
your honesty are all at stake!

FACEBOOK

YOU MUST MASTER YOUR
"PUBLIC SERVANTS"
OR ELSE THEY WILL MASTER YOU
ON THIS SIDE OF THE PEARLY GATES!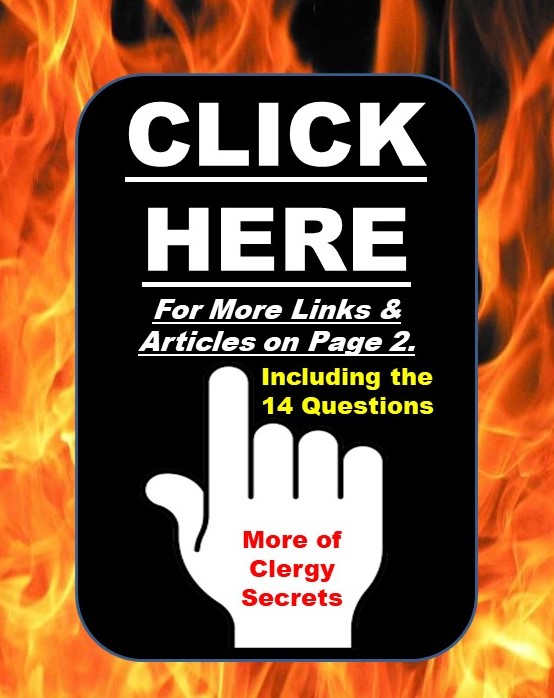 FACEBOOK