ClergySecrets.com GodScam.com ExodusErased.com
FACEBOOK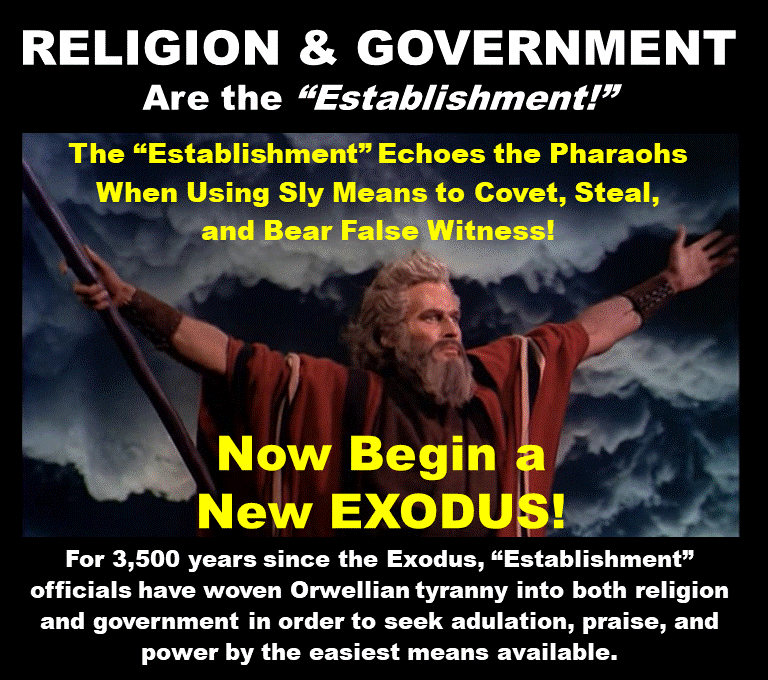 Photo courtesy Trailer screenshot, from DVD The Ten Commandments, 50th Anniversary Collection Paramount, 2006 [Public domain], via Wikimedia Commons (Click Here for Details).
Note: The 300+ Page Edition of CLERGY SECRETS
is Planned for Release on Amazon.com.
The 118 page "Segment 1 Edition" Preview is
available via the link at the bottom of this page.

Orwellian Tyranny Has
Been the Darkness Carried
by Religious Officials!
Lucifer was once called "The Carrier of the Light" before becoming "The Carrier of the Darkness." His darkness, however, has since been carried by the most unsuspecting vessels over the past 3,500 years – namely "religious officials" who have based their patterns of "ministry" on leveraging the intimidating "authority" of many bureaucratic regulations found in Old Testament Law, because doing so is claimed to "set the stage for the coming of the Messiah."
Nevertheless, over the past 3,500 years since the Exodus from Egyptian slavery, religious officials have used their "interpretive constructions" of Old Testament Law to "set the stage" for many patterns of cunning authority, in nation after nation, that have allowed religion and government to act together as an entrenched "Establishment" for the sake of "officials" who have wished to seek adulation, praise, and power by the easiest means available through the exercise of Orwellian tyrannies that covet, steal, and bear false witness! Such tyranny has oppressed from ancient Israel into the 21st Century!
This defines the "Establishment!"
_____________
Religious officials have long made religion into a cunningly dishonest Orwellian tyranny!


Behold the Matrix when
Religion Becomes Tyranny!
What's This All About?
After the Exodus from Egypt, ancient Israel's newly established freedom was quickly extinguished by its own officials!
This curse has repeated for nearly 3,500 years!
Only events such as the Magna Carta (1215 AD),
the Reformation (16th Century AD), and the American
Revolution (1776 AD) have protected people from
religion being cunningly leveraged for tyranny!

YOU MUST MASTER YOUR
"PUBLIC SERVANTS"
OR ELSE THEY WILL MASTER YOU
ON THIS SIDE OF THE PEARLY GATES!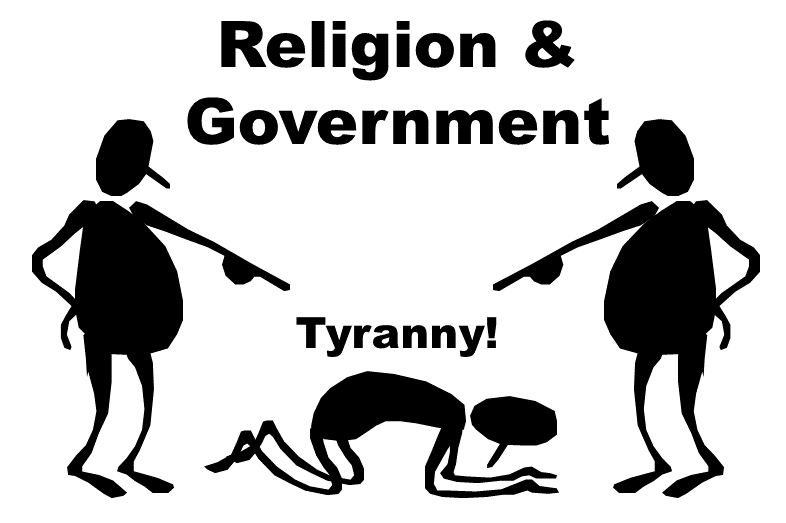 Behold the
"Establishment!"
Religious Authority Has Long
Been Tyrannical Authority!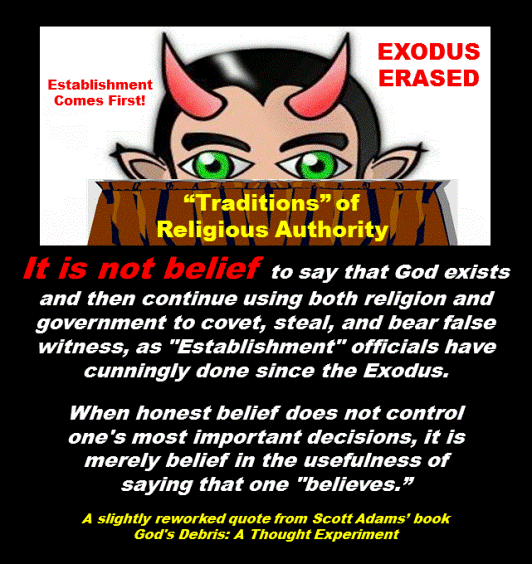 Be Brave and Take Heart!
Unlike the clear majority of writings about religion, CLERGY SECRETS is dedicated to eliminating the parasitical-elite class worldwide. CLERGY SECRETS believes that people will be inspired by the Holy Spirit to end much tyranny if they focus their attention on the slyly supportive ties that religious officials have with government and then learn to defy the cunningly two-pronged "Establishment" of religion and government! This publication is about making "religious authorities" to be honest and eliminating their wicked desires for parasitical ties to government!
WRETCHED RELIGIOUS OFFICIALS!
They Have Been So Deceitfully "Nice!"
THINK DIFFERENT!
Your time, your money, and – most importantly –
your honesty are all at stake!


Before entering CLERGY SECRETS at the bottom of this page, get the
"14 Questions" that will protect and defend you from the "Establishment" – because many "officials" will not honestly help you!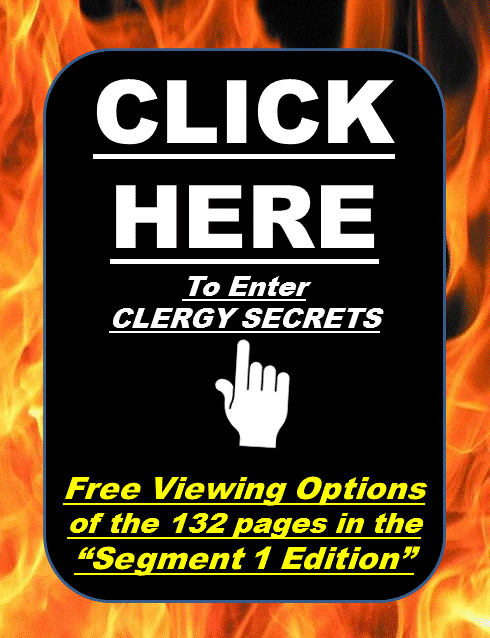 FACEBOOK